Ton in Ten... a sweet success
What do you do with over 5 tons of peanut butter? Donate it to The Foodbank!
In May, the AFL-CIO asked for peanut butter donations for its food drive known as the "Ton in Ten" which benefits The Foodbank. The food drive ran for ten days, from May 1 until May 10.
Not only did they collect a ton of peanut butter, they donated more than 5 tons, 11,000 pounds to be exact! Participating in the drive was the International Brotherhood of Electrical Workers (IBEW) Local 82. "We put the word out," says Business Manager IBEW Local 82 Greg Gust, "and our members came through."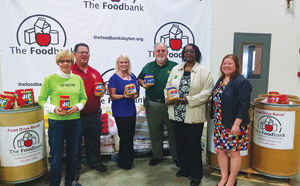 (from left) Executive Committee member Ann Sulfridge of the Miami Valley AFL-CIO; Business Manager IBEW Local 82 Greg Gust; Executive Director MV AFL-CIO Diane Walsh; President MV AFL-CIO Tom Ritchie, Marcia Knox; and Lora Davenport with The Foodbank.