IBEW Local 82 Celebrates 100 Years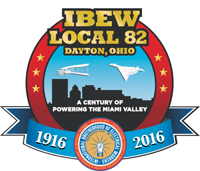 The International Brotherhood of Electrical Workers (IBEW) Local 82 is celebrating their 100 year anniversary. On June 25

th, over 1000 members and friends gathered at the Dayton Convention Center to pay accolades to all who have kept Local 82 strong and growing over the years. Speakers included Lonnie Stephenson, IBEW International President and Ken Cooper, IBEW 4th District International Vice President.

The presence of Local 82 is felt throughout the Miami Valley. Any large industrial, government, educational or healthcare facility was built with the help of the electricians and teledata installers from IBEW Local 82. This includes: WPAFB, Kettering Health Network, Premier Health, Meijer Distribution Center, Reynolds and Reynolds, University of Dayton, Greenville Ethanol Plant, Montgomery County Schools, Schuster Performing Arts Center, and most recently Fuyao.

Since its inception, Local 82 members have worked on an off the clock to better the Dayton community. They have volunteered thousands of hours to make a difference in the lives of their neighbors.
Graduation 2016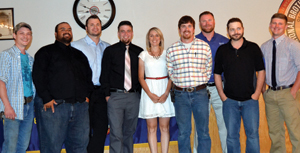 Graduates (from left): Cody Chafin, David Bruce, Top Inside Wireman Michael South, Cody Lacy, Top Telecommunications Technician Sara Hackney, James Meyers, Adam Trefz, Brandon Howard and Thomas Ford.
On June 1, the Dayton, Ohio Area Electrical Training Alliance held the Class of 2016 graduation banquet. Nine apprentices moved up the ranks to Journeymen, eight Inside Wiremen and one Teledata Technician, while their families applauded their achievement.
Training Director Mike Gebhart kicked off the celebration with a few comments. "These graduates are topping out in the 100
Year Anniversary of IBEW Local 82. Their skills will contribute to the future growth of our Local," said Mike.
Business Manager Greg Gust indicated that it takes a lot of dedication and stamina to make it through five years of training and education. He congratulated the class on their achievement.
Mike Evans, Executive Director of the Western Ohio Chapter, National Electrical Contractors Association thanked the graduates for their commitment and also thanked the families for their sacrifice. "There is a great demand for highly skilled electricians." noted Mike. "Your career is yours to create. The JATC built your foundation and I challenge each of you to make your mark. Use your passion to lead and you will become unstoppable."