URS 16th Annual Telethon
The United Rehabilitation Services (URS) held their sixteenth annual telethon at WDTN TV Channel 2 studios on Sunday, December 3, 2017. The presenting sponsor this year was the Western Ohio Chapter of the National Electrical Contractors Association (NECA) and the International Brotherhood of Electrical Workers (IBEW) Local 82. Several volunteers were on hand to take calls from donors.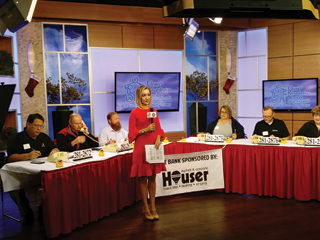 IBEW 82 volunteers Business Manager Greg Gust (left), Jody Steinbarger (third from left) and Christina Ashburn (fourth from left) take contributions at the telethon.
CRT Upgrades Louisville Public Media
Louisville Public Media recently completed a $7 million infrastructure upgrade and put a fresh face on their storied station.
In 1950, the mayor of Louisville Kentucky and the director of the Louisville Free Public Library launched the city's first public radio outlet, 89.3 WFPL, as a single 10watt FM station. The launch predated the first National Public Radio broadcast by 20 years and the Public Broadcasting Act by 17 years. LPM moved to its current home in 2000, a building that has endured for more than 200 years.
Edit Room A with new Wheatstone sideboard and other upgrades.