11th Annual Construction Career Expo
On October 12, 2016, the Miami Valley Building Trades Apprenticeship Group and the Miami Valley Alliance of Construction professionals (MVACP) hosted over 600 local high school students and instructors at the 11th Annual Construction Career Expo. The goal of the Expo is to inform students about career opportunities in the Construction Industry through the apprenticeship training centers affiliated with the union building trades. The event was held again at the Operating Engineers Training Center in Miamisburg.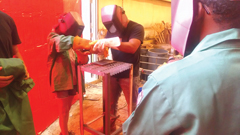 Kastle Electric brings solar to Kettering
Why install solar? Kettering City Schools decided that an annual savings of up to $20,000 in utility bills was a pretty good reason, especially when the project was completed in only five weeks during the summer break.
A group of High School accounting students took this on as a class project, doing research and working with Solar Integrated Resources. The studentís conclusion was that installing solar panels on the middle school roof could produce about 30% of the schoolís power requirement and provide a significant cost savings.